The novel Enthrall, by Tarynn Kerr, is the second installment in her paranormal book series. Enthrall picks up where Lure left off, which is why it is important to read the first, if at all possible. The story is set in the world of the fae, where David was unknowingly lured in the first novel. Humans are not welcome in this world, and everyone there is determined to kill David and his family. He then met a fairy named Cearo in the first book, and she was the one fairy that might have been able to help him. He almost made it back to the human world, but Cearo almost died protecting him and became stuck in a deep sleep. Because of this David gives up his chance to escape the fae world to help her. However, Cearo is being tormented while in her deep slumber and is trapped deep in her mind with the terrible memories of her past. This book is about David's quest to wake her and save her life.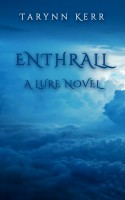 I did not have the chance to read the first novel,
Lure,
before reading
Enthrall,
but I wish I had. There was a lot of background information that would have greatly
benefited
me as a reader and made the book even more enjoyable. None the less, I still found this to be a fantastic novel and completely worth the read. I was hooked almost instantly, and read this book from beginning to end in just a few hours. The plot was intriguing and has a dark twist to it, and the characters were interesting as well. All in all a very enjoyable book and I cannot wait to get my hands on the first (and hopefully third) installment!!
Note: I received this advanced reader copy for free in exchange for my honest review from Story Cartel.